1000L Sigma Mixer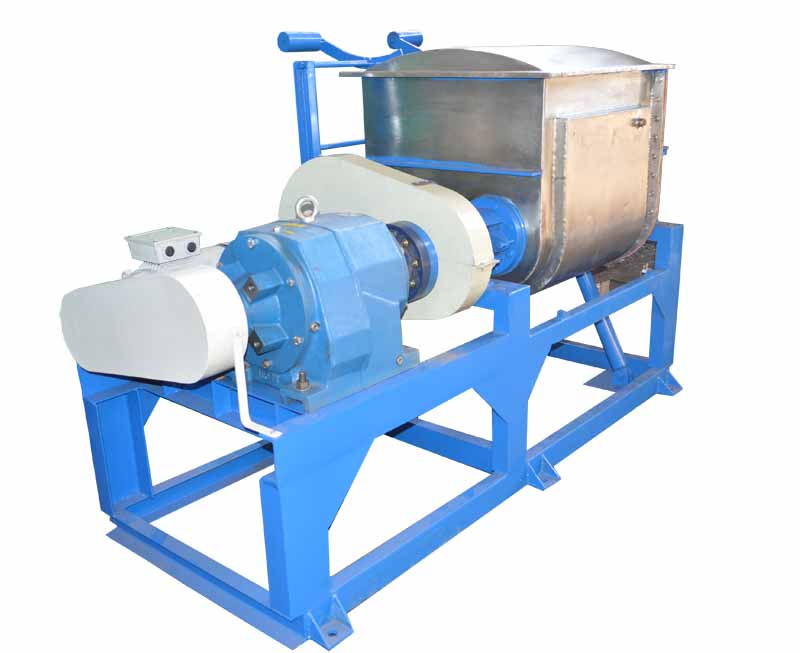 1000L sigma mixer machine has a double 'U' shaped container welded together inside which rotates 2 (two) 'Z' type sigma blades in opposite directions of each other sigma mixer blade. The clearances between the walls and the container are kept to a minimum for optimum efficiency in kneading and mixing. The shafts of the sigma blades are fitted in bearing blocks which are each provided with roller bearings, steel glands/teflon rubber seals for smooth and leakless operations. The 1000 l Sigma Mixer kneader is mounted on a sturdy base frame fabricated out of ISMC sections and are free from vibrations. For cooling and heating jackets are provided. the machine also called Z BLADE MIXER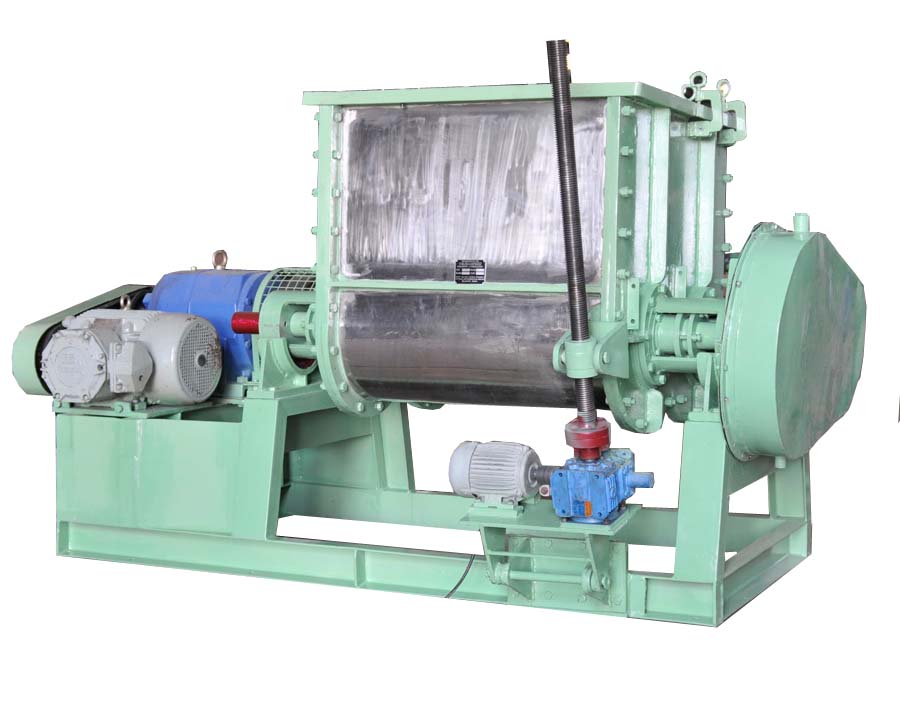 Sigma mixers are used in a number of food and commercial adhesive applications. Ingredients are blended until the consistency is correct. The ingredient is then tipped out of the mixer and forwarded to the next step in the process.
These types of machines are available in M.S. And S.S. construction. The kneader can be tilted by means of a mechanical system or manually and for bigger models beyond 250 Kgs we provided hydraulic tilting.

Hydraulic tilting system is provided with complete power pack, electric motor, pressure valves, pipes, fittings, cylinders and hoses which makes the tilting mechanism quick, easy and simple to operate.


Applications:
Double Arm Sigma Blade Mixers are suitable for many applications, including: Sealing compounds, asphaltic derivatives, mastics, hot-melts, floor coverings, colorings, rubber base, master-batches, chewing gum, rubber compounds, silicone, lubricating greases, dispersed pigments, butyl, gums and adhesives, ceramic paste, polyester compounds, greasy inks, pencil leads, explosives, powders to granulate, PVC coatings, resins, soap, brake linings, carbon electrodes, celluloid, Bakelite, battery paste, polishing pastes, …
LABORATORY DOUBLE ARM SIGMA BLADE MIXERS
Laboratory Mixers are available in sizes ranging from 3 Liters to 10 liter working capacity. Variable speed drive on the blades standard. Stainless steel construction standard, jacketed is standard.
Sigma Mixer or Sigma Kneader is generally used for heavy duty mixing, kneading, dough knaeding, uses in the Paint, Pigment, food, adhesives, chemical, pharmaceutical, dyestuff industries.
Technical Specification of Sigma Mixer
Model
Capacity – Litres
Motor (H.P.)
Working Capacity approx.
Gross Capacity approx.
General
Heavy Duty
ASM – 50
50 Liters
80 Liters
5 H.P.
7.5 H.P.
ASM – 75
75 Liters
110 Liters
7.5 H.P.
10 H.P.
ASM – 100
100 Liters
150 Liters
10 H.P.
15 H.P.
ASM – 150
150 Liters
200 Liters
15 H.P.
20 H.P.
ASM – 200
200 Liters
300 Liters
20 H.P.
25 H.P.
ASM – 400
400 Liters
550 Liters
30 H.P.
40 H.P.
ASM – 500
500 Liters
750 Liters
40 H.P.
50 H.P.
ASM – 750
750 Liters
1150 Liters
50 H.P.
60 H.P.
ASM – 1000
1000 Liters
1500 Liters
60 H.P.
70 H.P.
ASM – 1500
1500 Liters
2100 Liters
75 H.P.
80 H.P.
ASM – 2000
2000 Liters
2600 Liters
80 H.P.
90 H.P.
ASM – 3000
3000 Liters
3800 Liters
100 H.P.
120 H.P.
* Power voltage can be adjusted as per customer's domestic power voltage requirements.
* Rights of technical improvements & modification reserved.
* Illustrations & dimensions are shown for information purpose only.
Send Inquiry
sigma mixer machine,sigma mixer kneader, sigma mixer extruder, Z blade sigma mixer, double arm sigma mixer, food grade sigma mixer, heavy duty sigma mixer, bubble gum sigma mixer,sigma dough mixer, liquid soap sigma mixer, lab sigma mixer, sigma mixer manufacturer, sigma kneader manufacturer, sigma mixer exporter, sigma kneader exporter, sigma mixer manufacturer ahmedabad, Sigma mixer manufacturer india, sigma mixer exporter india,